Woodbury Commons: The Best Outlet in New York
---
Woodbury is a beautiful part of Orange County, New York and famous among fashion shoppers worldwide. Thousands of designer brand lovers and bargain hunters visit Woodbury Commons on a daily basis, most commonly for shopping the huge Outlet Mall. Find out where and how you can plan your trip to Woodbury – New York… All the shopping and tourism information you need is right here. Plan your NY shopping trip now!
---
Woodbury Shopping
Thousands of people visit Woodbury every day, would you like to know why? The answer is SHOPPING! Woodbury Commons is the largest outlet in the state of New York and known as a 'shopping paradise', located just outside New York City. It offers premium designer fashion, clothes, shoes, and accessories. All items have regular price savings of 25% up to 65%, making fashion designer clothes affordable for everyone.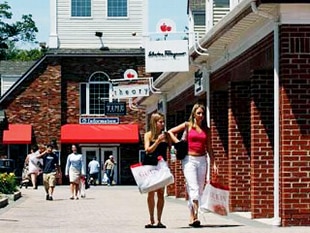 The Woodbury Common Mall is freely accessible for everybody to enjoy a day of shopping and relaxation. Note that this website is no official site or affiliated with Woodbury Common Premium Outlets or Simon Property Group, nor is it intending to be. This site shows you all the good shopping and tourism places Woodbury has to offer and the Outlet Mall just happens to be the biggest tourist magnet of shopping & fun!
Stores in the Outlets
Woodbury Commons has a top notch selection of stores and restaurants, the main reason for being so attractive to shoppers. Check out the full directory of designer stores and a map of the outlet. The restaurants that offer refreshing drinks and food after a long day of shopping. Some of the most wanted designers have their stores located in The Outlet New York.
Opening Hours
Sure we do not want you to be late for shopping, so that's why the outlets are providing long shopping hours for you! The Outlets are known for their long opening hours, so you can enjoy your shopping till late in the evenings. Check out the Woodbury Commons hours to see how long you can shop…till you drop!
Extra Discount Coupons
Shopping is not complete if you do not have some coupons for extra discounts. The discount coupons page shows you all the options you have for receiving discount coupons. Like retrieving a Tory Burch promo code, or simply redeem a coupon code by registering as a Woodbury Shopper. With these promo codes, you can receive extra discounts up to 30%!
Transportation, how to get there?
So now the big question, how to get to Woodbury New York and start shopping? Traffic can be tricky and there are many ways to Woodbury NY, so check out the various ways of transportation.
The City of Woodbury
Planning a full weekend trip to the Orange County New York? Not only the Outlet has lots to offer, you can even book a whole weekend and enjoy a lot more after your shopping trip. Things like a visit to the Theater or its beautiful surroundings. Read on and find out what this town has to offer more and plan your trip well! We do not only list the Outlet Mall shopping information, but also as many of the shops and restaurant you might want to see when visiting the area. That way you can book a full weekend for Fun&Shopping!
What about Tourism?
Of course, it is possible to plan a holidays trip to Woodbury and visit the Orange County area. Find out all the tourism information you need for the Orange County area in New York, whether you'd like to go down the Hudson Valley, plan some serious shopping or just enjoy the local Farm Markets, Wineries or Breweries.