Restaurants near Woodbury Commons
After a long day of shopping, carrying heavy bags full of fashion designer clothes and enjoying the experience, your stomach also needs some attention. Of course there are plenty of restaurants near Woodbury Commons Outlet or located just at the Outlet Center itself. If you want to give your stomach a break you have come just to the right place to find out where you can eat!
Eating and Drinking at the Outlet Area
The most convenient place to grab something to eat or drink, or just a quick snack, is at the Woodbury Outlet Area itself. There is a number of places to enjoy some nice foods and beverages.
The best place to eat would probably be Applebee's, where you can have a large choice of foods for decent prices. Try to be there in time, as it can get crowdy during lunch time. Of cours good old McDonald's is always a good choice for any appetite.
The Food Court is located in the center of the Outlet area. You will also find the restrooms, ATM, Foreign Currency Exchange and the Strollers&Carts for your kids.
See the full list of nearby restaurants here, or check out the Woodbury Commons Map that shows you the location of the Food Court. There should be something for everybody to enjoy.

| | | | |
| --- | --- | --- | --- |
| Haagen Dazs/Frozia | (845) 928-8419 | Wasabi Jane's Rice and Noodle Works | |
| Corner Café | (845) 928-4516 | Subway | (845) 928-8419 |
| Cinnabon | (845) 928-8611 | Starbucks Coffee | (845) 928-4744 |
| China Taste | (845) 928-2474 | South Philly Steaks & Fries | (845) 928-4881 |
| Desert Moon Fresh Mexican Grille | (845) 928-3020 | Pizza Italia | 845) 928-2440 |
| Au Bon Pain Bakery Cafe | (845) 928-4516 | New York Pretzel | (845) 928-8419 |
| Applebee's Neighborhood Grill & Bar | (845) 928-1817 | Nathan's The International Eatery | (845) 928-4934 |
| McDonald's | (845) 928-2040 | | |
Just outside the Outlet Center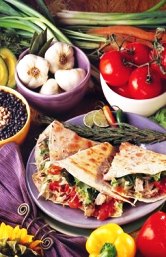 Just outside the Outlet Center you will be able to find some decent restaurants to enjoy dinner after shopping. Listing all of them on this page will not help you too much in making a good choice, so here are some reliable links that give you all the restaurants in the Woodbury and Central valley area with trustworthy visitor's reviews. These link to well known review sites like Yelp or Tripadvisor. They do not only list the restaurants in the neighborhood, but also give you direct access to user opinions and reviews, opening hours, contact details and any other information you require. Even interactive maps are provided that show all the restaurants on that location, you just need to click&book.
This information will surely please your stomach after you've shopped till you dropped!