Top 5 Tourist Attractions in Orange County NY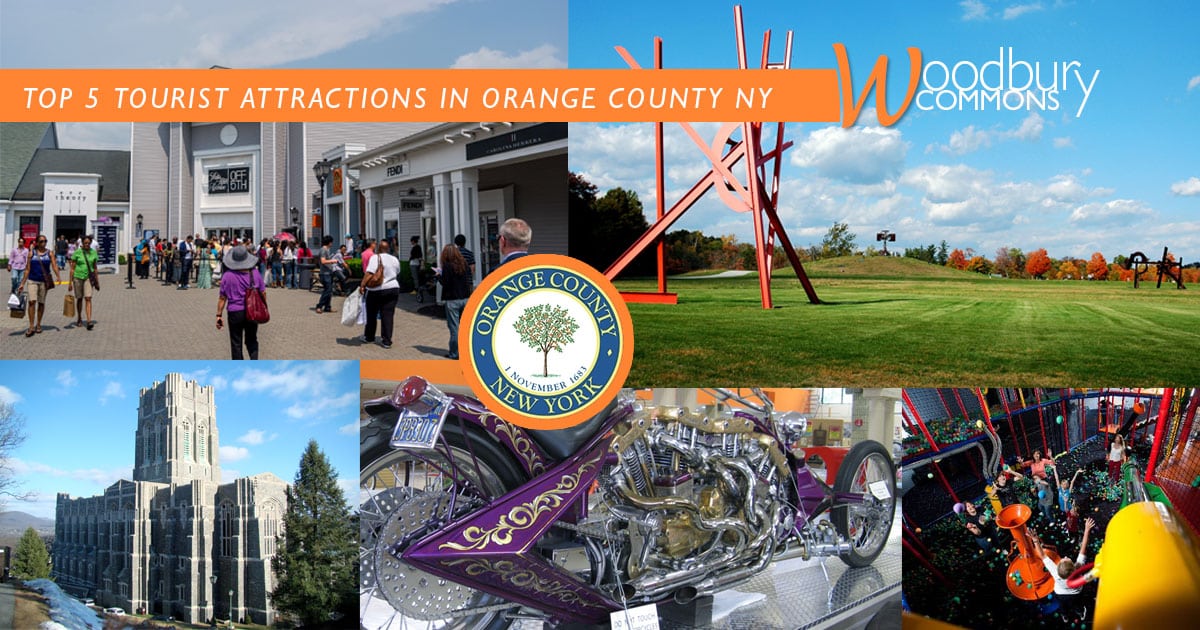 You already know that Orange County NY has a lot of tourist attractions to offer, but check out the Top 5 of Tourist Attractions and find out what other people like about Orange County NY. Recent figures have shown that around 17 million people visit the county each year, spending over $435 million. So when you only know the Woodbury Outlet, check out this TOP 5 to see what more it has to offer.
#1: Woodbury Commons
Woodbury Commons Outlet is still number 1 on the list of most popular tourist attractions, as a stunning 13 million visitors per year clearly proof the Outlet clearly deserves its number one spot on the list. With 220 designer brand stores occupying more than 800,000 square feet it is a huge are of shopping fun, just an hour away from New York City. As it attracts many tourists from different countries, the guests are greeted in several languages including Chinese, Japanese, Spanish, French and Portuguese. Especially in China the Outlet has enormously gained in popularity, so it now attracts more Chinese visitors than ever.
The Woodbury Commons Outlet is opened every day from 10AM-9PM, even on SUNDAYS!
498 Red Apple Ct, Central Valley, NY 10917
TEL: (845) 928-4000
#2: Storm King Art Center
The Storm King Art Center in Mountainville, New York, is a 21,780,000 square feet area filled with huge sculptures created by some of the most acclaimed artists of this time. Located just one our from Manhattan, NY, it is the perfect trip to make when you are visiting Orange County NY. The sculptures in the Art Center are so huge, they will remain there permanentely. What makes the attraction so popular is the huge outdoor area filled with these enormous sculptures and the beautiful view of the surrounding landscape.  The center also organizes many special exhibitions and events for children and art students.
The Storm King Art Center is opened 5 days a week from 10AM to 5:30PM at Wednesday-Sunday. Admission is $15 for adults, $12 for seniors, $8 for students 5-18, and free for children of 4 or younger.
1 Museum Rd, New Windsor, NY 12553
TEL: (845) 534-3115
#3: US Military Academy
The US Military Academy in West Point NY dropped a spot and is now the number 3 most favourite tourist attraction in Orange County NY. The Academy has lots to offer for their visitors, like a huge museum with all of the guns, tanks, and weapons from the US Army throughout the history of the Civil War, the World Wars and the Cold War. Then there is the parade ground, The Plain, with statues of some of the great generals in US history. The Old Cadet Chapel, Cullum Hall, the Jewish Chapel, and other religious buildings are also worth a visit, but most importantly is the West Point Cemetery. It has a stunning view over the Hudson River and is the burial place for many US Soldiers who died in combat. For sure worthy of a visit.
The US Military Academy is opened daily from 9AM till 4:45PM and your starting point will be the Visitors Center.
600 Thayer Rd West Point, NY 10996
TEL: (845) 938-4011
#4: Motorcyclepedia Museum
The Motorcyclepedia Museum is located in the 85,000 square feet Miron Lumber building in Newburgh and features more than 400 historical motorbikes, from 1900 till present day. The exhibition displays a wide variety of motorcycles, ranging from original to custom Harley Davidsons, Indian Bikes, Choppers and much more. If you are a motorcycle fan or into history, you can spent hours in this museum and learn all about this American cultural and historic heritage. It also has a nice giftshop with plenty of bike goodies, books and miniatures.
The Motorcyclepedia Museum  is open from Friday-Sunday, from 10:00AM-5:00PM. Admission is $11 for adults and $5 for children from age 4-12. Children under 3 years are free.
250 Lake Street, Newburgh, NY 12550
TEL: (845) 569-9065
#5: The Castle, Chester NY
The Castle in Chester NY is an indoor and outdoor entertainment palace for you and your kids to enjoy. Go for some skating, arcade games, mini golf, go karts, bowling, air hockey and much more. When you want to take a moment for yourself, while the kids enjoy their play, use the parent lounge to relax and take a coffee, while you can watch your children enjoy themselves. Spent some quality family time at the Fun Castle when you visit Orange County NY.
Since the opening hours of The Fun Castle differs based on season and activity, please check the exact hours here.
109 Brookside Ave, Chester, NY 10918
TEL: (845) 469-2116