GUESS Outlet
The GUESS Outlet is popular and a well known designer brand at Woodbury Commons. One Factory Store for Accessories as well as a typical GUESS Outlet are located in the Central Valley Shopping Mall. You will find both women and men's fashion, like GUESS shoes, jeans and other clothing in the Outlet or watches, purses or bags in the Factory Accessories Store. Both stores offer excellent opportunities for buying lots of young and trendy clothing or accessories with low outlet prices. There's even a smaller section of children's clothing. Absolutely worth checking out if you have offspring.
The stores both have travelling to Woodbury, check out the exact locations below.
GUESS Outlet Factory Store
442 Evergreen Ct
Central Valley, NY 10917
+1 845 928-1294
GUESS Factory Accessories
617 Bluebird Court
Central Valley, New York 10917
+1 845-928-3930
Obtaining GUESS Coupons in Store
When shopping for your favorite designer clothes you need to know how to obtain GUESS Coupons in Store or by retrieving extra discount coupons at the Woodbury Outlet. These coupons will provide you with some great additional savings to the already cheaper outlet prices.
The brand GUESS
Originally GUESS Inc. was only known for its denim jeans, but later on started to licence and manufacture a large variety of fashion clothing lines as part of their brand. It also started to market other fashion accessories like watches, purses, jewelry and perfumes. Even GUESS shoes and sneakers are offered for men, women and kids. The company also owns the line Marciano, named after its founders. The company is known for their American quality, marketing and creativity, by popularizing new trends and fashion styles.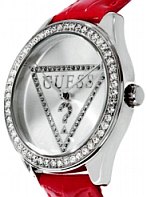 The first GUESS Factory Stores where open in 1981 by Paul and Maurice Marciano in upscale Beverly Hills and sold only designer denim for women. When they started to advertise their brand, the black-and-white ads became an iconic trademark for the designer. The ads won numerous awards and included many supermodels like Claudia Schiffer, Anna Nicole Smith, Kate Upton, Paris Hilton and Laetitia Casta.
GUESS kept on expanding their fashion line with a line of watches known as "Guess Steel" and the "Guess Collection" and the GUESS Kids line. The watch line is still very strong today and one of the biggest selling points for the brand.
G by GUESS
In the beginning of 2007 a new concept was create called "G by Guess". G by Guess has a specific target audience, mainly men and women from 16–23 years young, and offers more competitive prices. The stores of this new concept feature eye-catching displays and offer a dary, night-club like atmosphere that is appealing for the young audience it targets.