Calvin Klein Outlet
The Calvin Klein Outlet at Central Valley Woodbury Commons Outlet is a real shopping magnet for many Outlet Shoppers, as you can also see on the Foursquare reviews. As one of the world's most renowned designer brands, Calvin Klein cannot be lacking in the Central Valley shopping walhalla. The store offers clothing and shoes for both men and woman, but also the famous CK One perfume and the legendary Calvin Klein Underwear. All at outlet prices of course! Also be sure to get some coupons for even more discount.
The store is located on the East side of the Food Court, just next to the Nike Factory Store and you will immediately recognize the big Calvin Klein logo displayed in front. Especially in the twilight this looks really nice. Obviously this store is also congruent with the Woodbury Commons Hours the other stores conduct to. When you do not want to miss out on any special sales event, keep an eye on the news or like the Facebook Page.
Calvin Klein Outlet Address
You can find the Calvin Klein Outlet Store at the following address:
660 Bluebird Court
Central Valley, New York 10917
+1 845-928-9080
FREE Calvin Klein Coupons for extra discount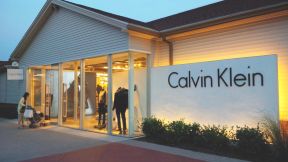 You can download the free I'm In Coupons to redeem extra discount when shopping the Woodbury Outlet. Or check out the Woodbury Commons Coupons that are also available and will offer much more discount at the already low Outlet prices.
About Calvin Klein and how he became one of the most Famous Designers
The Calvin Klein designer brand is already around for many years. It's an original American Fashion house, founded in 1968 by Calvin Klein as a small coat shop for women in New York City.  One year later, he already appeared on the cover of the Vogue magazine. 10 years later, his revenue already grown to over $30 million and his portfolio expanded with designer jeans, shoes, scarves, furs, belts, sunglasses, and sheets.
In the beginning of the 80's is when Calvin Klein really gains name and fame, by launching its iconic men's underwear. Back then there was not much more available then a 3-pack of plain white underpants and so CK Underwear became an instant succes. Key to the succes was the intriguing marketing campaigns, where young male models would strike provocative poses to push the product. This is still their trademark way of advertising and many male models and famous athletes have already been doing Calvin Klein campaigns, like Marky Mark (Wahlberg) and Kate Moss. If you like them, check out the timeline published by Esquire Magazine , full of famous Calvin Klein ads.
Another big hit was the famous fragrance clone (or CK One), a Citrus Aromatic fragrance for women and men that grossed an impressive $60 million in its first three months of hitting the market and is still a famous fragrance today.
So head over to Woodbury Commons Outlet Mall and start shopping for Calvin Klein Underwear, CK One or designer jeans now! The shops are openend almost every day, so no reason for you to miss out on the extra outlet discounts!