Carter's Outlet
Shopping for newborn and children's designer clothing is fun at the Carter's Outlet for Babies & Kids at Woodbury Commons. Next to an online store, they also have over 300 stores, most of them in the US. When you enter the Carter's Outlet you will immediately see it is all about colorful prints and cute characters, which children love. Their clearance sale area has many offers and looks very well organized. The sizes offered range from 0 to 6 for girls and 0 to 7 for boys. The store itself is well lit and the personnel are known to be friendly and helpful.
Clothing, Gifts and Accessories
When you say Carter's, you say children's clothing, gifts and accessories. As the leading brand of this segment in America, the designer stays true to it's principles to make dressing easier for moms (and dads) and most comfortable for the little babies. Carter's uses the highest possible quality standards and tries to stay innovative at every aspect of kids clothing. Little details like Handi-Cuff mitten sleeves for protecting babies from self-scratching keeps the brand on top of the industry. The fitting room even has a changing table, which is smarter than the Osh-B'Gosh store, which just has fitting rooms.
Shopping the Carter's Outlet in Central Valley means you will benefit from reduced prices on children's clothing, shoes and apparel. If you sign up for the Carter's email list, you get redeem even more coupons for all the Woodbury outlets.
Carter's Outlet Address
434 Evergreen Court
Central Valley , NY 10917
(845) 928-9498
Quality, innovation and a unique eye for details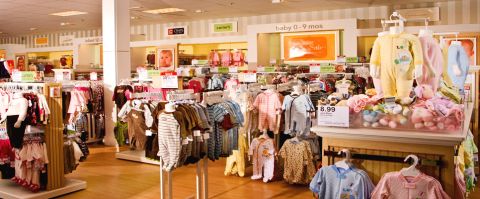 As the most prominent brand in child's clothing, accessories and shoes in the US, Carter's sells at least 10 products for every US child. Known for its quality, innovation and a unique eye for details, the designer brand earned the trust of many parents. Founded in 1865 by William Carter, the company has a long history of dressing children for generations long. It all began when William Carter decided to knit mittens in his kitchen. Constantly looking though the eyes of a child is what makes the brand so popular among families and keeps them on top of the market. The designs, materials and construction of the clothing and shoes are all well thought of and made to support the comfort of the kids.
OshKosh B'Gosh
Another famous brand of the Carter's family is OshKosh B'Gosh. Also an American company, founded in 1895 and a subsidiary of the designer brand Carter's. Their iconic hickory-striped denim clothing are immediately recognizable and provide your children with a stylish outfit. Originally designing denim bib overalls for railroad workers and farmers, it started making children's sized versions of their clothing, which became an instant success. While at the beginning kid's clothing made up only 15 % of their revenue, nowadays it no longer creates clothing for men and women. The brand's clothing creates a unique bond between generations and holds on to quality, durability and craftsmanship in their fashion. OshKosh B'Gosh manufactures accessories, jeans, pants, shirts, sweaters, t-shirts and tank tops, and its trademark overalls with the hickory-striped denim. it joined the Carter's family of brands in 2005.
OshKosh B'Gosh Outlet Address
The OshKosh B'Gosh Outlet has a separate store in the Woodbury Commons outlet. You can find it at the below address:
601 Bluebird Ct
Central Valley , NY 10917
(845) 928-4449
Happy shopping!