Le Creuset Outlet
Shopping at the Le Creuset Outlet in Woodbury Commons will give you the opportunity to find cast iron cookware on sale from this famous brand. Le Creuset is well known for their cast iron cookware with innovative designs and exceptional quality. You can save up to 30% Off 2nd quality classic ovens, pots, pans, braisers and other kitchen accessories.
In Le Creuset's case 2nd quality certainly does not mean bad quality, as these are still excellent products that just did not meet the high quality check standards. Check out all the cookware carefully, as most of them just have blemishes so minor, it does not even matter. This ensures you will get a good price and the quality you expect from a Le Creuset Outlet. You can recognize the 2nd quality pieces by the orange labels.
There is also 1st class equipment available, which can be recognized by the white or orange Le Creuset label. These are slightly more expensive, but if you want to be sure to go home with a flawless piece of cookware, go for this! Also check an excellent read regarding the 7 myths about cast iron cookware.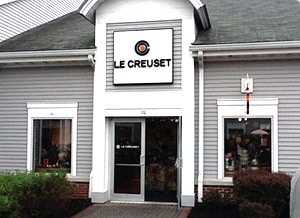 Other shoppers are quite positive about the Le Creuset Outlet in Woodbury, although they seem to lack the really modern cookware. But hey, that's what Outlet shopping is about, finding the deals and bargains. Make sure to check out the Woodbury Commons Hours to know exactly when to start shopping for your new cookware.
Le Creuset Outlet Address
The address and Outlet location of Le Creuset is really good, as it is close to one of the parking places near the welcome/information tower building. That way you won't have to drag the heavy Le Creuset gear too far while you are shopping. Definitely worth checking out if Le Creuset is your thing. The Outlet Store will even hold your purchases for you if you decide to continue shopping the Woodbury Commons Outlet and want to pick up your cookware at the end of the day. How convenient is that?!
LE CREUSET WOODBURY COMMONS
869 Grapevine Ct.
Central Valley, New York 10917
+1 845 928-4316

GPS Coordinates:  41.31503, -74.126172
The Brand and High Quality Standards
The French cookware brand Le Creuset was founded in Fresnoy-le-Grand, a small town in the North of France. The founders Armand Desaegher (casting specialist) and Octave Aubecq (enameling specialist) started Le Creuset in 1925. In that year they produced the first French Oven, which became the precursor to a wide variety of cookware and kitchen utensils. The Flame Orange color of the French Oven became the signature color of the brand. Did you know that "creuset" means "cauldron" in French? That's where the brand name came from, which is now known worldwide.
Their famous iron cast cookware is manufactured by using a standardized sand casting method and later on at least three coats of enamel are applied, to give it a resistant layer to damages. Another benefit of the enamel coating is that it comes in all kinds of different colors. The Le Creuset ovens are loved for their bright colors, that will fit any household. This is also the cookware you will find in the Outlet at Woodbury Commons.
In 1995 Le Creuset began exploring new ways of producing high quality houseware, like stainless steel, stoneware, silicone, enamel on steel, textiles and forged hard-anodized aluminum. Of course all using the same high quality assurance process. They also extended their range of products and explored different kitchens then only the French one. This resulted in cookware like a cast iron wok, an Indian karahi dish, a Japanese sukiyaki pan, an Italian risotto pot and even a Moroccan tagine.
With the consistent high qualities of authenticity, originality and innovation, Le Creuset maintains a connection to both heritage and modernity. This also shows in the Outlet, so visit the store at Woodbury Commons Outlet!