North Face Outlet
All about the famous 'The North Face Outlet', located at Woodbury Commons. The North Face, Inc. is an American company specialized in technically advanced outdoor apparel for wearing and additional gear for outdoor activities like skiing, snowboarding, climbing and running. The North Face Outlet shop has special offers for your outerwear, fleece jackets, coats, shirts, footwear and much more for you to wear. Of course at special discounted outlet prices.
You can also find The North Face Outlet store in Woodbury Commons Outlet on Facebook. They give regular updates on Sales, new arrivals, special events, shopping nights and any other news that might be interesting as a North Face fan.
The North Face Outlet Address
The North Face Outlet Address you can see below, its right in the middle of the Woodbury Outlet.
THE NORTH FACE @ WOODBURY COMMONS
Suite 461 – Evergreen Court
Central Valley, New York 10917
+1 845-928-4900
GPS: +41°19'1.86″, -74°7'37.14″
Also view the Outlet on the map.
The North Face Brand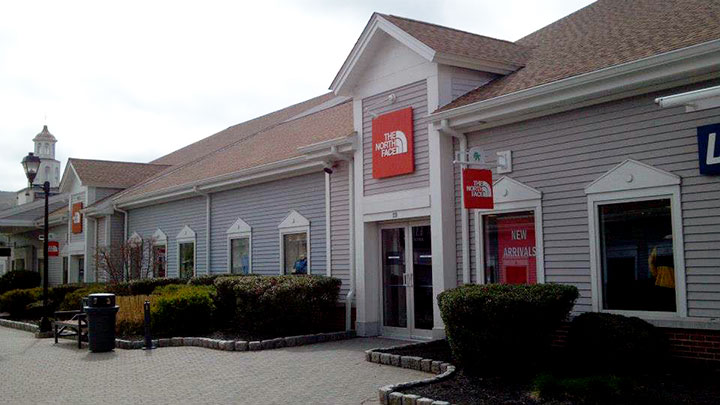 The North Face brand was established in 1968 in San Francisco. The North Face name came from the fact that this part of a mountain in the northern hemisphere is generally the most difficult to climb. In the beginning the store offered only specialized gear for climbers and backpackers. Later on in the 80's also skiwear was added to the catalogue followed by camping equipment. Nowadays the brand offers a varity of outdoor equipment and wear for all kinds of sports.
Late 90's, early 2000 the brand became more and more popular, as also outdoor sports grew in popularity. Currently it is a renowned brand and one of the top sellers of outdoor wear. The famous logo is an interpretation of Half Dome, a massive granitic monolith in Yosemite National Park. This represents the strong connection The North Face has to outdoor sports.
Innovation
The North face is also well known for its innovation for the modern day explorer. As a leader in the outdoor industry it has to deal with many extreme weather conditions and therefore take all conditions into account.
The North Face has developed numerous technologies to withstand the diversity of nature, alone or together with other renowned partners in the industry like GORE-TEX®, Polartec® or Windstopper®. All registered trademarks showing the outstanding quality The North Face delivers to its customers. Of course all of this can also be said of the high quality products in The North face Outlet at Woodbury Commons.