Tory Burch Shoes and Outlet
Tory Burch Shoes and Outlet at Woodbury Commons. Famous for its stylish and easy to wear designer shoes and clothes by American Fashion Designer Tory Burch. As this is one of the most anticipated fashion designer brands in the world, expect there to be some queues on the special shopping days! Buy your favorite Designer Shoes, Reva Flats, Flip Flops or Ballerina's up to a 60% discount. Also check the Tory Burch Coupons!!
When you say Tory Burch, you say Reva Ballerina Flats (or Tory Burch Reva Flats for short)! The famous ballerina shoes worn by all the celebrities. Of course you can find these in the Outlet!
In the Tory Burch Flip Flops Outlet you can also find some stylish items, designer sandals for outlet prices. Also get Tory Burch boots, booties and pumps on sale in this Outlet Store!
The brand is known for its color, print and eclectic details , like the well known T-logo medallion that is printed, sewed or pressed on the complete Tory Burch collection. Next to shoes, you will find all kinds of fashionable clothing, sunglasses, handbags, accessories and beauty.
The Tory Burch Outlet Address
The address of the Tory Burch Store in Woodbury Outlet you can see below. The maps show you exactly how to get straight to your favorite Fashion Store without losing any time. Also be in time for the Woodbury Opening Hours, so you can be sure to not loose any precious shopping time.
TORYBURCH WOODBURY COMMONS
Grapevine Ct
Central Valley, NY 10917
+1 845-928-2886
Tory Burch Brand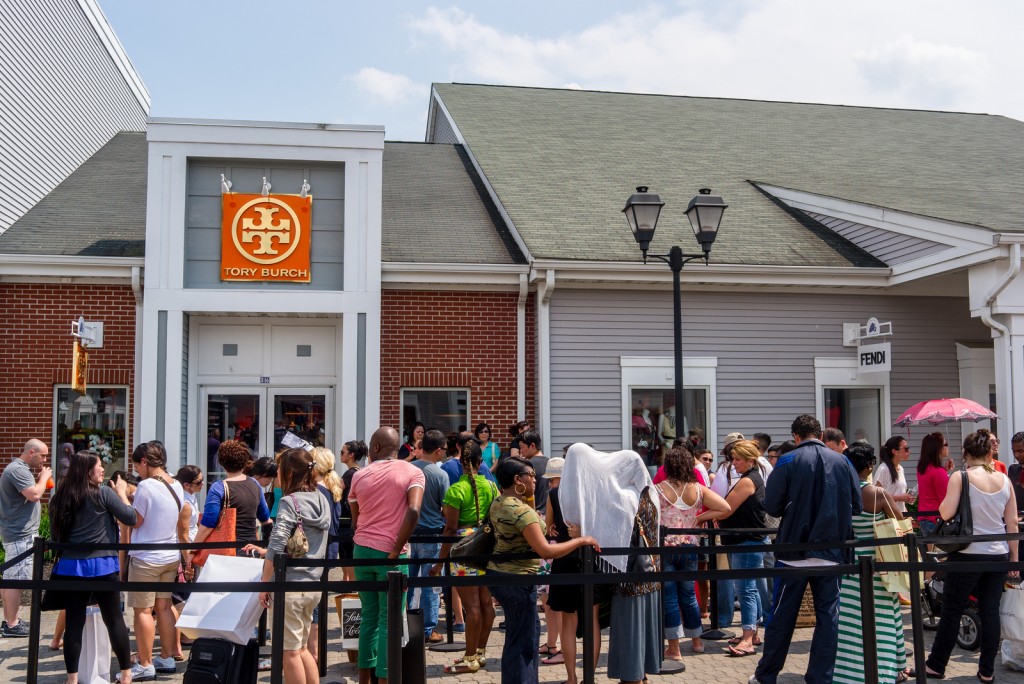 Although Tory Burch was just recently founded in 2004, it still managed to become one of the most popular brands nowadays. Especially the big stars of Hollywood adore the style of this designer brand. Most famous are the 'Reva Ballet Flats' in the Tory Burch Collection, which can be found in every celebs wardrobe and are undeniably Tory Burch Shoes. Reva Ballet Flats are flat 'ballerina' like shoes, and named after Tory's mother. The shoes are known for its timeless design and easy to wear fit. The good thing is the shoes are always ON SALE in the Outlets!
The Tory Burch brand was established by a woman who knows what celebrities need, as she is one herself. Tory's parents belonged to the high Society of Philadelphia and she was raised among the stars en rich people. After graduation for the History of Arts, Tory's mom arranged her a part-time job at a befriended designer's place. After that she kept working in the fashion scene, married the rich Chris Burch and had three children from him. Then she started thinking of establishing her own fashion line. The TRB as part of the Tory Burch Style was born.
Tory Burch Shoes & Oprah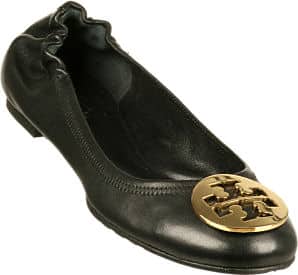 The small Tory Burch Shoes boutiques that she opened became immensely popular, fast. Founded in 2004 and in 2005 the brand was already mentioned by Oprah Winfrey, who said she loved the Tory Burch clothing and shoes. This made the brand instantaneously famous and Tory Burch Shoes became more and more popular.
In 2007 there were already waiting lists for people wanting to buy Tory Burch shoes & clothing and she won multiple awards. Not only Oprah loved her style, also the other stars embraced Tory Burch' outfits. The Tory Burch style can be described as ´preppy-boho' or 'easy-chic' and while not cheap, it still is one of the most stylish brands in Woodbury Commons.
These boots are made for…
Also interested in a pair of Tory Burch Boots? Check them out at the premium Woodbury Commons Outlet Store of this designer and see if they a fitting match for you for the special discount pricing. Tory Burch offers plenty of riding boots, ankle boots or good old rain boots. All having the well known T-logo on them! Of course Tory Burch Boots are made of the finest quality leather (or rubber for the rain boots), Gold-toned details and are absolutely stylish to wear.
In need of the fastest way to receive news and updates for the latest Tory Burch design, outfits and trends? Subscribe to the Tory Burch twitter feed and get immediate updates.
How people review the Tory Burch Factory Store
On Yelp the Woodbury Outlet gets reviewed by more than 300 users on Yelp. Check it out and try some serious outlet shopping!
Tory Burch Promo Code
You want to redeem extra discount when shopping for Flip Flops, Sunglasses or Riding Boots? Check out if there is any Tory Burch Promo Code available and redeem your discount coupon. Carefully read the special instructions on the coupons to make sure you don't miss out on any discounts up to 60%.