UGG Outlet
UGG Australia is famous Australian designer shoes brand with an undeniable look and feel. The famous boots, originally designed for getting your feet warm after surfing, are really comfortable, easy to wear without socks, nice and warm and will even function as winter boots. Their shoes are both trendy and classic and the brand was able to reach its current status of fame in a blink. Reason for this was a cult status that got lots of celebrities wearing the shoes and the distinctive appearance of the boots. Therein lays the key to their success. Will you also be wearing UGGs this winter?
The UGG Outlet Store
Of course there is an UGG Outlet Store in Woodbury Commons, so you can shop for your favorite shoes at discount prices. The store offers the regular UGG collection, UGGs for Men and Essential Boots for Women. Don't expect to find big discounts though, since the boots and shoes outlets are still very in demand. Do enjoy extra savings and outlet exclusives though. Since it's a popular brand, expect some lines on busy days.
The layout of the store itself is warm and inviting, with shoes on the side walls and some in the center and many seats to fit your new boots or shoes. The UGG boots outlet itself is a bit separated from the main block of stores, so carefully check the map to locate it correctly.
To receive exclusive deals from your local store.
UGGs Outlet Address
You can find the UGGs outlet at the following address:
107 Marigold Ct
Central Valley, NY 10917
+1 845-928-9981
Check the map carefully, as the store can be a bit tricky to find.
UGG boots, ugh boots or ug boots?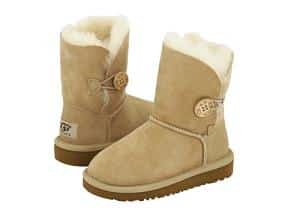 UGG Boots are originally from Australia and New Zealand, where they are famous unisex boots, made from sheepskin and also referred to as 'ugh' or 'ug'. The inside is nice and warm, the outside leather is tanned and comes in all kinds of colors. The boots were comfortable and warm during winter, but since they have become very popular, people also tend to wear them during summertime. First introduced to the surf culture in the UK, they later became well known in the US during the late 90's. The name "ugg boots" is a descriptive name, but since the UGG Australia brand became famous, it is also a registered designer brand (although only outside Australia and New Zealand). Although the boots are not known to be fashionable, they still managed to concur the world with their unique style. The boots and shoes are manufactured by Deckers Outdoor Corporation, who registered the trademark in 130 countries worldwide.